One of my all time favorite bloggy friends The Winey Mommy has this weekly meme called This or That Tuesday... all day yesterday I wanted to get back online and participate, but with all my Prom doodies (I know it's duties.... I just prefer "doodies" right now... but I digress...) I haven't had a lot of time to do fun stuff... I hope it's ok I am late to the party... Chelle, I'm sorry... are we still friends?... Chelle... Chelle...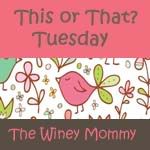 This week's question: Do you prefer to watch movies at home or at the theater?
I love to watch "Blockbuster" type movies at the theater... Anything with lots of special effects is best viewed on a huge screen with lots of other people... provided they turn their cell phones off... come on people... enough already... I hear tell that the 3D movies are a must see on the big screen... I have a hard time paying over $10 for a matinee... especially since I have so many other demands for my "Benjamins" lately... oh, who am I kidding... make that my "Washingtons"... lol... So big production movies at the theater... but tear jerkers must be watched at home... I love me some Redbox... $1 (+tax) and you can have a fun evening or rainy afternoon planned... Last night we rented Hachi: A Dogs Tale and sobbed for an hour... it was the most beautifully sad movie I've ever seen.... and I wouldn't have enjoyed crying like that in public...
Thanks for listening,