Let me start off with an apology... this is only one of three post for today... You see, I needed to announce the winner of my giveaway (scroll down) and I had messages for my family that needed to go on virtual post-its (scroll further down)... but I really wanted to join Chelle from
The Winey Mommy's
"This or That Tuesday" Linky party... so the result is three posts...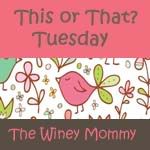 Her question this week is....
Do you buy your makeup at a discount/drugstore or some type of specialty makeup store?
Well, to answer specifically... I go to Sephoria. But to be honest, I don't wear makeup often. I have rosacea that is easily irritated by makeup. I can only use the "bare minerals" line by "Bare Escentuals" and I usually use the need for more as an excuse to make a run to Sephoria at the Greenhills Mall in Nashville. (I know I can get it elsewhere, but the Axeman doesn't..) Why the subterfuge you ask? Because that mall has a Cheesecake Factory... and since I don't wear my makeup a lot the once or twice a year omission for the sake of a day alone with my man and a date to our favorite restaurant seems innocent enough...
Now, I'm off to
The Winey Mommy
to see how everyone else answered... and I promise, no more posts today...
Thanks for listening,